Thurner RS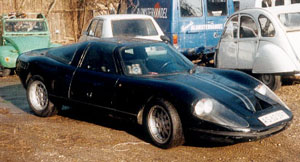 For all interested in Thurnercars.
What is a Thurner? ?

. It was produced in the years 1969-1974 and only in 120 examples by the constructor Rudolf Thurner

. He wished to build a sportscar, small and light with low air resistance and so cheap that everyone could afford it.
He made it with low air resistance by taking the shapes and the front window from a Porsche 904 GTS.

. It should be light (it only weighs 570kg.) so he used a glass fiber bodywork like a Porsche 904 GTS He made it cheap (17.000 DM) by using new chassis from the NSU 1200TT

, which made the spare parts cheap as well.
The engine was from an NSU a four- cylinder air-cooled, that could be tuned to 125HP

.
About four years ago I bought a Thurner

, and it appeared to be in such a bad condition Iím afraid, that Iíve only driven about 1000 km.
It was so rusty

, 6 that it had to have a thorough repair, which has been going on for the past 3 years now! The most difficult part has been to find spare parts and thatís why I created this site www.thurner.dk where everyone interested in Thurner can contact and help each other with tips and tricks.
It would also be interesting to find out how many Thurners that are left?
Iíve tried to find if there should be any Thurnerclub say on the Internet but the only thing I can come up with is an old German magazine; Motor Klassik 7/1988 in witch thereís an article about a German club; Thurner freunde (Thurner friends) with the chairman Peter G.Kling.He should also be able to repair Thurners but Iíve not been able to locate him, maybe you can help??
Maybe you know where Rudolf Thurner #7 is today?
Thereís only brought two Thurners to Denmark and they are both in the country stillÖ. besides that I know thereís one, maybe two in Sweden.
Please write if you know anything that could be interesting for the site or me at; zabelo@fedt.dk Peter Zabelo - Denmark